Although we filled our freezer , the overall season was just tough all around . With the weather playing the biggest role. From the start of bow season the weather just did not help in anyway . First off let me start by telling everyone that after speaking to many many other hunters, and seeing it written all over facebook etc. the weather seemed to play the very same role across the country. We were forced very early in the bow season to change our entire set ups including , groundblinds , stands we have had in place for years needed to be re-located
etc. Then there was the weather the winds mainly . They came from directions they very rarely come from. Then the fact there was no snow at all during bow season which usually helps group up the deer here in Western NYS at least . The rut came & during that magical time we normally Love it , because from pre-rut to peak rut we generally call in several bucks, well we still rattled & called in several deer , However they were as skiddish as I've ever seen them for some reason. It was though the deer had already been through the entire gun season. I have to admit I had to wonder if someone soaped our area, but I know we have no enemies we know that would be so cruel. What ever happend we had earned every deer we took this year. Most by spot & stalk hunting playing the winds, whenever possible. My Son jeremy managed to take his first deer this year , due to the NYS Laws changing allowing youth 15 yrs of age to hunt big game along with a parent or gaurdian.
He took his Buck a fine 6-pointer from a ground blind we had moved next to one of my stands the night before he took that buck , You can read that story here under Jeremy's first Deer.
I had hunted some of the worst & best weather conditions a hunter could meet up with through my 36 yrs. , But I believe do to completely different weather patterns this year we really had to rely on pure skill & a lot of luck this year. It seemed the same every area we hunted in NY this year. It certainly wasn't a good year for the green horn hunter , with the exception of the infamous first timer having a monster walk right in front of him lol . Overall I believe this year we were successful only by playing the scents, sun, winds, calls , Rattling game, with Patience being the single most reason for success & the long season we have here in NY. When the snows finally came the deer grouped up & made the hunting a little more bearable. As it took until the late season bow muzzleoader season to fill the majority of our tags. But in the End God Blessed us with a full freezer , five deer 2 bucks ,3 doe's as well we were able to donate 2 deer once again to the local food pantries. We Hope the 2011 Season is as good , with the exception of the weather . Just Hope mother nature is a little more kind to us next year :)
Well Until then have a great year !!!! Good Hunting & Be Safe
May God Bless
Wally & Carol ,Jeremy
Happy New Year !!!
These are 4 of the 5 deer we took this year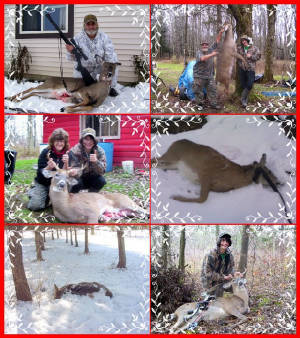 Friends don't forget to donate a deer if you take an extra one! :)